My Contributions
During the Summer of 2019, I assisted the UX and E-commerce teams in an initiative to raise the conversion rate on spanx.com by 30%.

Some of my tasks included assembling a site map of Spanx.com, designing landing pages, creating UX modals, and making on-brand graphics. I created user flows and web page layouts using Sketch. I used InVision software to make prototypes. I conducted an audit to analyze the CTA's used on Spanx.com. After presenting my research and audit, I then re-designed the CTAs which are now implemented on Spanx's live site. I also designed a new module to improve and simplify the mobile checkout experience (I reduced the mobile check out flow by 3 steps). For each of my projects, I conducted and analyzed user research to inform the development of new designs. Leading a team of fellow interns, I created and pitched a working prototype of a new chat bot messanger to improve the online shopping experience.

Wireframing Website Pages

I used Sketch software to wireframe different layouts for Product Detail Pages and seasonal landing pages.
Facebook Messenger Chatbot
I led a team of 18 other interns to research, prototype, and pitch a Facebook Messenger chatbot product and its integration to Spanx's company leadership. To accomplish this, I used Sketch and InVision Studio software to make a working prototype of the product to demonstrate what using a customized chatbot could look like for Spanx and their customers.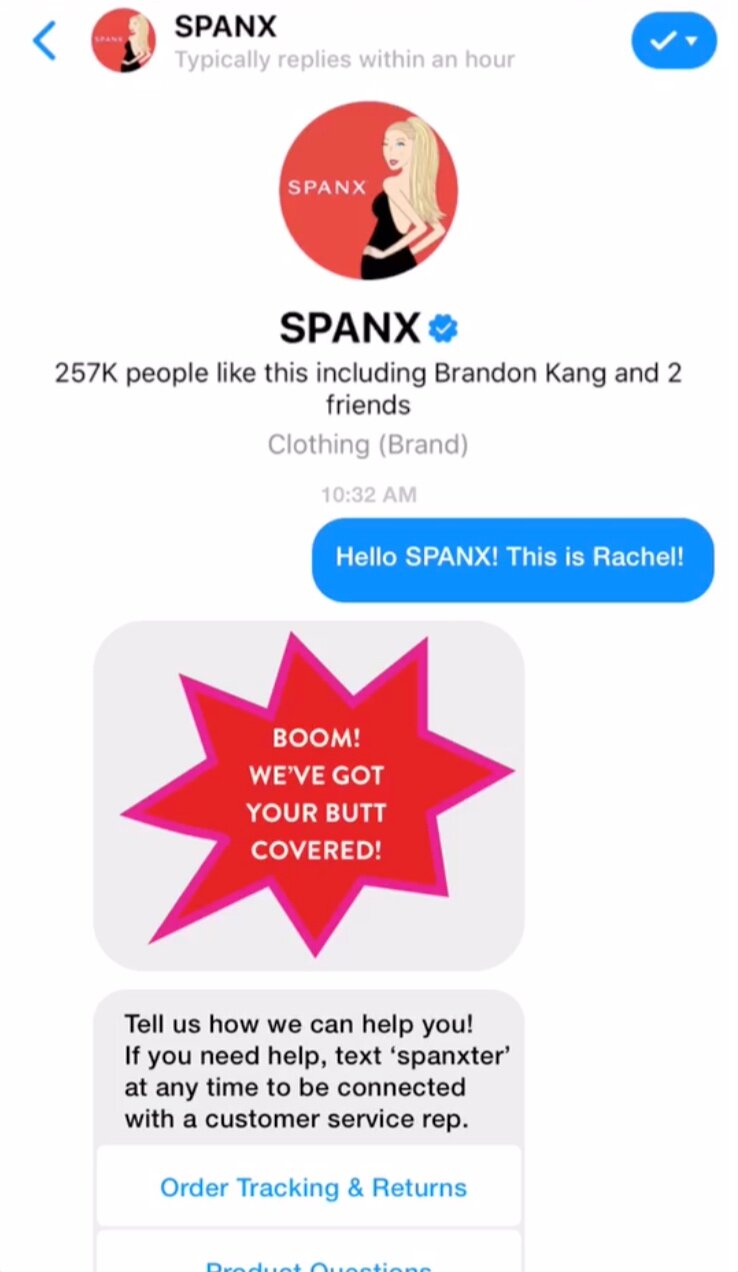 User Interface Design

Icon Audit
One of my favorite projects was to complete an audit of the Spanx website to evaluate all of the buttons and icons. I focused specifically on re-designing the Call to Action buttons and getting rid of other bulky icons that were slowing down the site.

CTA Re-Design
After conducting research on button design and the previous CTA, I realized two key flaws: The red color was a deterrent to users & the shape was not easily recognizable as a button.
My new button designs include a more recognizable shape (a rounded rectangle) with neutral colors (like white and black). I proposed the CTA re-design at the end of the summer that can now be seen on the live Spanx.com.
Collaboration
One my favorite aspects of working at Spanx was my team. I loved getting to learn from not only the other UX designer

s, but also the Sales, Creative, and Digital Media teams. I grew immensely by getting feedback and critiques to improve my designs and by collaborating with other employees and interns.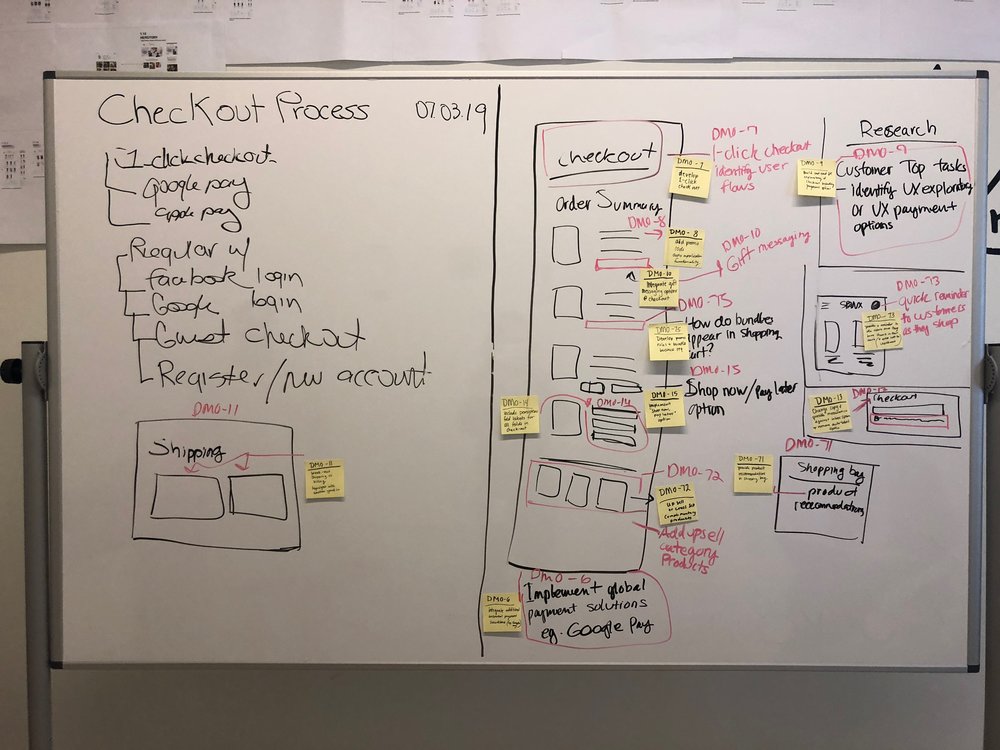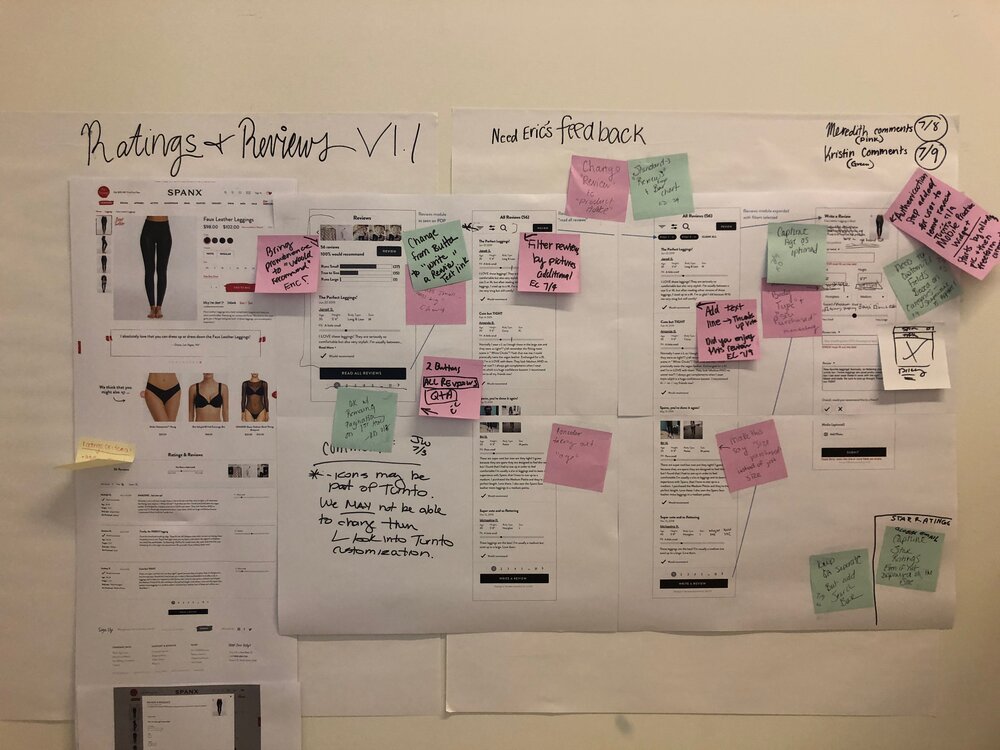 User Research
To inform the design of a new digital product, I conducted user research. This research included performing interviews, creating surveys, and observing customer interactions through the live spanx.com stylist chat. I worked with the Customer Experience team to formulate questions and design graphics for a customer feedback survey targeting online shopping between the ages of 29-39. The results of the survey were analyzed and used to create persons and inform design decisions.
Ideation
My favorite task was doing an audit of Spanx's website and coming up with new ideas to improve the brand's digital presence. I was fortunate to have the opportunity to present some of my ideas to SPANX's leadership.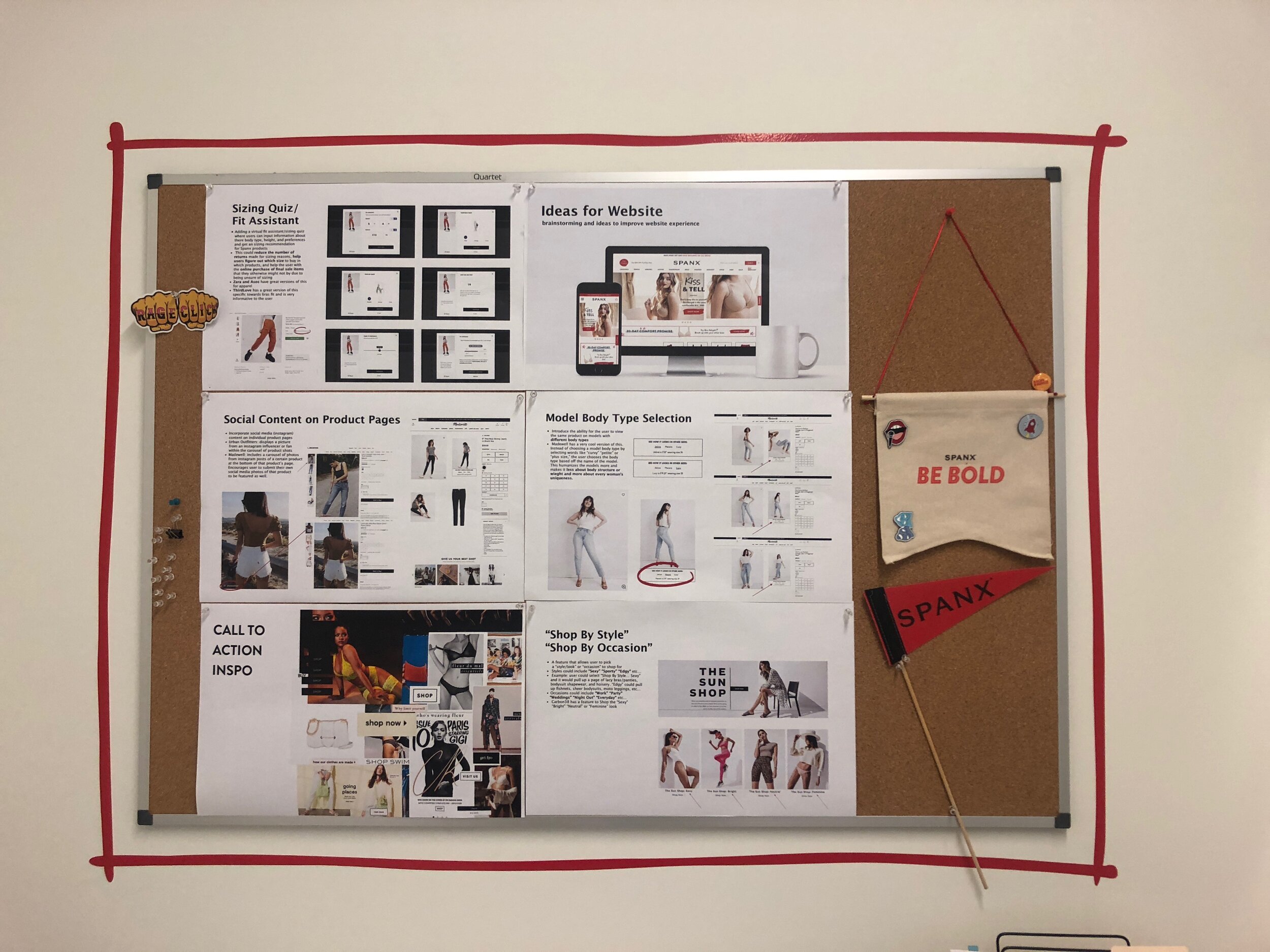 Mood Boards
A key part of my design process is gain inspiration from other brands and designers I admire. Below is a mood board I created while brainstorming ideas for new CTA (call to action) button designs on Spanx.com.

Sitemap
A sitemap for developers to reference while working on Spanx.com